Rates at the Bergerhof in Kals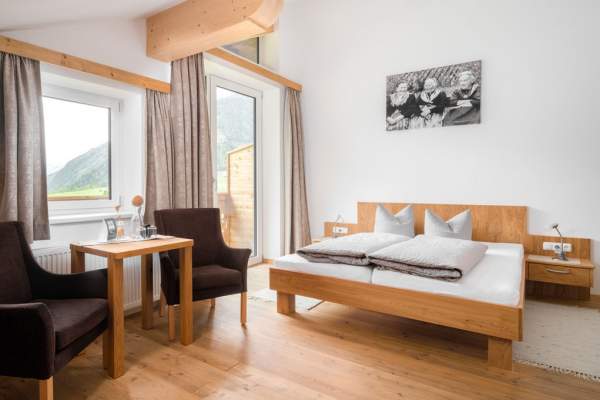 Suites
Costs for the winter 2020/2021 in EUR without tax
Rooms with breakfast/

costs per person and day

1 person
2 persons
Suites "Böses Weibele" and "Panoramablick"
-
EUR 41,-
Costs for the summer 2021 in EUR without tax
Rooms with breakfast /

costs per person and day

1 Person
2 persons
Suites "Böses Weibele" and"Panoramablick"
-
EUR 38,-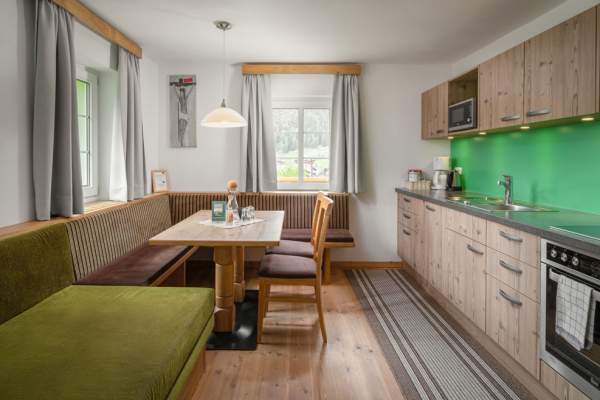 Apartment
Costs for the winter 2020/2021 in EUR without tax
Apartment costs for

2 person and day;

minimum stay 4 days

2 persons

Each more

person

max. 6 persons

Apartment "Dorfblick" wihtout breakfast

EUR 71,-
EUR 12,-
Final cleaning apartment EUR 40,-

Apartment "Dorfblick" including breakfast

EUR 91,-
EUR 22,-
Final cleaning apartment EUR 40,-
Costs for the summer 2021 in EUR without tax
Apartment costs for

2 person and day;

minimum stay 4 days

2 persons

Each more person

max. 6 persons

Apartment"Dorfblick" without breakfast
EUR 62,-
EUR 12,-
Final cleaning apartment EUR 40,-
Apartment"Dorfblick" including breakfast
EUR 84,-
EUR 23,-
Final cleaning apartment EUR 40,-
Child´s reduction
in parents' room
| | |
| --- | --- |
| age of the child | reduction in the room of the parents |
| until 2 years | free of charge |
| until 6 years | 60% reduction |
| until 10 years | 40% reduction |
| until 15 years | 20% reduction |
Save costs – secure yourself
Subject to change.


Our offer is subject to the availability of the room offered at the time of acceptance.
To fix your booking, a deposit of 30% of the booking amount is to be paid by bank transfer to our account free of charge.
Upon receipt of your deposit, your booking will be implemented.
NOTE: Pursuant to § 18 para. 1 no. 10 FAGG (Distance and Outward Business Act), there is no 14-day right of withdrawal!
The general terms and conditions of the hotel industry apply.
Cancellation
up to 3 months before arrival - no costs
up to 30 days before arrival - 40% of the total price
29 days to day of arrival and non-appearance - 90% of the total price
in case of an early departure - 100% of the total price
We recommend that you insure for illness and cancellation of the journey!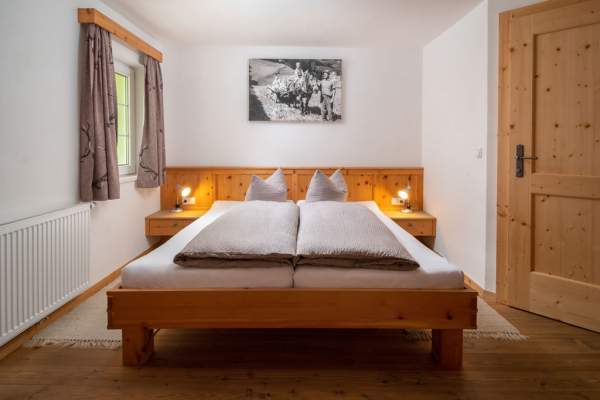 Rooms
Costs for the winter 2020/2021 in EUR without tax
Rooms with breakfast/

costs per person and day

1 person
2 person
Family room "Schönleitenspitz"
-
EUR 40,-
Double room "Talblick"
EUR 46,-
EUR 39,-
Twin bed "Kendlspitz"
EUR 39,-
EUR 32,-
Costs for the summer 2021 in EUR without tax
Rooms with breakfast /

costs per person and day

1 Person
2 persons
Family room "Schönleitenspitz"
-
EUR 37,-
Double room "Talblick"
EUR 42,-
EUR 35,-
Twin bed room"Kendlspitz"
EUR 36,-
EUR 29,-